Welcome to GOLDEN STONE INDUSTRIES, this company catering to the global market for India Natural Stones like kota stone. The company, which stared, by Mr. MUKESH MEENA since 2008 enjoys a distinct identity in its sphere of operation. As the leading manufacturer of Natural Stone products, we produce a vast range of Natural Stone products – kota stone,Red mandana,Jaisalmer Stone & Dholpur Stone in our factory located in Satalkheri,Ramganjmandi, Kota (Rajasthan). We are committed to providing a wide range of products that are manufactured to the highest quality to suit any consumer demands, requirements and taste of indian natural stone.
OUR TARGET & VISION:
Our principles are transparency, honesty, initiative, efficiency, commitment, passion and the great team work of our people. We pride ourselves on our ability to adapt effectively to all aspects of change in business including technology, innovative design and cost effectiveness. Established in the Ramganjmandi, Kota (Rajasthan), we are market leaders of Natural Stones and our mission is to remain the paramount leader in every possible aspect. We will not allow our growth and success to make us complacent. Neither would we allow failure to prevent us from continuously improving and seeking new opportunities to expand and grow.
Golden Stone company ia pioneer quarry owner of kota stone in kota Rajasthan india,our main product – kota stone is know cota stone – we offer a wide range of products such as Kota Stones. Our customers can avail the offered sandstone & marble stones in various sizes, colors, finishes, patterns, shapes and designs, as per their requirements. Some of the places where the offered stones find wide applications are swimming pools, commercial buildings and hotels. owing to their smooth finish, elegant design, eye-catching appearance and durable construction, these sandstone & marble stones are highly demanded. We export our products in worldwide.
kota stone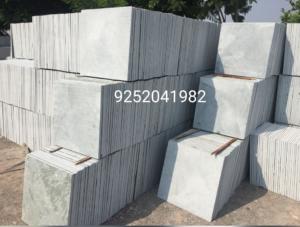 We are the leading manufacturer of kota pathar, We will Provide you in bulk quantity only we are one of the prominent Manufacturers, Exporters, and Suppliers of the superior quality Kota Stones. The variety offered by us includes all types of Kota Stones.  The clients can avail the range from us at the most competitive prices with superior packaging and after-sales services.
Size – 1×1,2×2,2×1,2×3,2×4 & 2×5  ( in feet)
Thickness – 25-32mm
Uses – interior flooring and out door flooring
Colour – Blue,grey and Red
Stone type – lime stone
kota pathar price list 
| | | | |
| --- | --- | --- | --- |
| S.NO. | SIZE (in feet) | THIKNESS | RATE |
| 1 | 2X1 | 20mm to 30 mm | 8/-per sft |
| 2 | 2X1.5 | 20mm to 30 mm | 16/-per sft |
| 3 | 2X2 | 20mm to 30 mm | 17/-per sft |
| 4 | 3X2 | 20mm to 30 mm | 20/-per sft |
| 5 | 4X2 | 20mm to 30 mm | 23.50/-per sft |
| 6 | 5X2 | 20mm to 30 mm | 29/-per sft |
| 7 | 6X2 | 20mm to 30 mm | 30/- per sft |